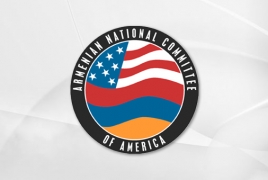 November 2, 2017 - 11:01 AMT
PanARMENIAN.Net - Hundreds of Christian leaders, international religious freedom advocates, and human rights defenders held over 400 Congressional meetings calling on legislators to reject Turkey's Armenian Genocide gag-rule and draw upon the lessons of this crime in preventing renewed atrocities against Christians and other at-risk religious minorities across the Middle East.
The advocates were gathered for In Defense of Christians (IDC) 2017 Summit, "American Leadership and Securing the Future of Christians in the Middle East," cosponsored by the Armenian National Committee of America (ANCA), The Philos Project, and The Institute on Religion and Democracy (IRD).
The meetings, which included Christian clergy of many denominations and supporters of diverse nationalities and creeds, focused on the summit's five-pronged advocacy agenda, including support of H.Res.220, a bipartisan measure seeks to apply the lessons of the Armenian Genocide in preventing new atrocities across the Middle East, as well as efforts to advance: security and stability in Lebanon; emergency relief for victims of genocide in Iraq and Syria; allies and accountability in the Middle East; and, legal punishment for ISIS, al-Qaeda and other perpetrators of genocide.
Prior to the Congressional visitations, a dozen Members of Congress joined with advocates to share their personal commitment to support the safety and security of the Middle East's historic Christian communities and cited the importance of grassroots mobilization to advance those concerns. Among U.S. Representatives offering remarks were: Robert Aderholt (R-AL), Ron Estes (R-KS), Trent Franks (R-AZ), Glenn Grothman (R-WI), Andy Harris (R-MD), Ro Khanna (D-CA), Ruben Kihuen (D-NV), Jamie Raskin (D-MD), Keith Rothfus (R-PA), Brad Sherman (D-CA), Steve Stivers (R-OH), and Randy Weber (R-TX).
A highlight of the IDC 2017 Summit was the announcement that the U.S. will open a new channel of direct U.S. Agency for International Development (USAID) assistance, administered by faith-based groups and other non-government organizations, to help persecuted Christians and other at-risk Middle East populations. The policy shift, long sought by the ANCA, IDC and a broad range of coalition partners and Congressional allies was announced Wednesday evening by Vice-President Mike Pence at the IDC 2017 National Advocacy Summit Fourth Annual Solidarity Dinner.
"We will no longer rely on the United Nations alone to assist persecuted Christians and minorities in the wake of genocide and the atrocities of terrorist groups," announced Vice-President Pence. "The United States will work hand-in-hand from this day forward with faith-based groups and private organizations to help those who are persecuted for their faith. […] We stand with those who suffer for their faith because that's what Americans have always done, because the common bond of our humanity demands a strong response."