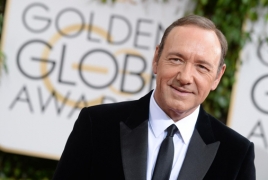 November 3, 2017 - 17:10 AMT
PanARMENIAN.Net - Scotland Yard has reportedly launched an investigation into Kevin Spacey following an allegation that he sexually assaulted an aspiring British actor in London nearly a decade ago, Variety reports.
The man, who has not been identified, told authorities this week that he had approached Spacey in 2008 asking for help with his career, according to the Sun newspaper. The double Oscar winner then invited the young man, who was 23 at the time, to his home in South London. Spacey was artistic director of The Old Vic theater, a post he held from 2004 to 2015.
The aspiring actor, now 32, told police that he and Spacey smoked marijuana, after which he passed out, the Sun reported. The man alleges that, upon regaining consciousness, he found Spacey performing oral sex on him. He told the "House of Cards" star to stop, then fled the house. Spacey allegedly warned him not to tell anyone what had happened.
The man first gave his account to the City of London Police on Tuesday, October 31, after which the police referred the complaint to Scotland Yard. The Yard issued a statement Friday saying that it was investigating an alleged incident in Lambeth – the South London neighborhood where Spacey maintains a home – but did not name Spacey as the alleged assailant.
"On 1 November, City of London Police referred an allegation of sexual assault to the Metropolitan Police Service [Scotland Yard]," the statement said. "It is alleged a man assaulted another man in 2008 in Lambeth. Officers from the Child Abuse and Sexual Offences Command are investigating."
Spacey is now facing an increasing number of allegations of sexual misconduct. Earlier this week, actor Anthony Rapp alleged that Spacey made an unwanted advance on him in the 1980s when he was 14 and Spacey was 26. Since then, another actor and a documentary filmmaker have said that Spacey inappropriately touched or groped them, and two unnamed men have accused Spacey of sexually assaulting them when they were young teenagers.