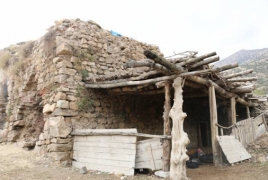 November 8, 2017 - 17:09 AMT
PanARMENIAN.Net - The half-destroyed Armenian church of St Thomas in the village of Altinsac in Turkey's Van province is now being used as a stable, Ermenihaber.am reports.
Relics of the Apostle St. Thomas were buried in the church, built in the 10th-11th centuries not far from Lake Van.
After its renovation in 1671, the church turned into a monastic complex but is now on the verge of final dilapidation because of negligence and treasure hunters' attacks.
The tourism department of Van recently declared the church a tourist site, but travelers will find a stable instead in case they decide to visit the ancient Armenian church.
A number of Armenian churches are used as stables, reception halls or serve the most diverse purposes across Turkey.
More recently, the Turkish government confiscated St. Giragos Armenian church, under Article 27 of the Expropriation Law. Neighbouring Syriac, Chaldean and Protestant churches were also expropriated as part of the same decision, which comprised the expropriation of some 6,300 plots of land in Diyarbakir's Sur (walled town) district, about 80% of the property in that district.