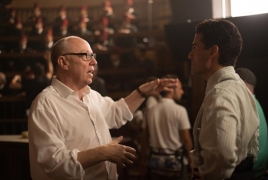 November 8, 2017 - 18:51 AMT
PanARMENIAN.Net - In "Intent to Destroy", documentarian Joe Berlinger attempts to assemble a sort of meditative history of the Armenian Genocide and its century-long cover-up by the Turkish government out of a curious source: behind-the-scenes footage of the production of Terry George's film "The Promise", a sweeping historical saga with movie stars and first-rate production values, financed independently and released in the spring of 2017.
In an article published on Wednesday, November 8 on The Village Voice, Alan Scherstuhl says that as a film, "The Promise" is interesting for its subject and the struggle to get it made, rather than its own drama or technique; "Intent to Destroy" uses "The Promise" as something of a guide, as our entree into the history, as if the filmmakers assume that we need to see Oscar Isaac to care about the extermination of millions.
"There's a scene in the movie where Christian Bale goes and attempts to take pictures of what's happening to the Armenians," one of the many interviewees tells us, his words illustrated with a clip from "The Promise". He continues, "In the real world, it was forbidden to take pictures of anything."
"That leads to an enlightening discussion of the practicalities of the Ottoman Empire's mass murder of Armenians. "Intent to Destroy" sometimes plays like a DVD extra that might have accompanied "The Promise", but it does have value of its own in its interviews with historians, philosophers and filmmakers and its vintage photos and footage," Scherstuhl says.
"Even that footage of the shooting of "The Promise" bears fruit when Armenian actors in the cast speak to Berlinger's cameras and to each other about their families' experience during the long-ago massacres, the 100-year diaspora that followed, and the terrible success of Turkey's efforts to pretend it all never happened."