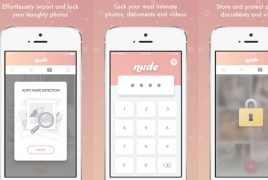 November 16, 2017 - 16:43 AMT
PanARMENIAN.Net - Armenian developer Edgar Khanzadian has co-authored Nude, a new app which is using machine learning libraries stored on the phone to scan your camera roll for nudes automatically and remove them to a private vault, The Verge reports.
The app is now available on iOS.
Jessica Chiu and Y.C. Chen teamed up withEdgar Khanzadian to build Nude, which uses machine learning to scan your camera roll for nudes automatically.
When Nude finds what it believes to be nude photos, it moves them to a private, PIN-protected vault inside the app. (Chiu said Nude would monitor your camera roll in the background; in my experience, it's more reliable to simply open Nude, which triggers a scan.) After sending you a confirmation dialog, the app deletes any sensitive files that it finds — both from the camera roll and from iCloud, if the photos are stored there as well. Nude even uses the device's front-facing camera to take a picture of anyone who tries to guess your in-app PIN and fails.
Crucially, the images on your device are never sent to Nude itself. This is possible thanks to CoreML, the machine learning framework Apple introduced with iOS 11. (Tensorflow performs a similar function on Android devices; an Android version of Nude is in the works.) These libraries allow developers to do machine learning-intensive tasks such as image recognition on the device itself, without transmitting the image to a server. That limits the opportunity for would-be hackers to get access to any sensitive photos and images. (For devices with iOS 10 and below, Nude uses Facebook's Caffe2, but also manages to do the analysis locally on the phone.)