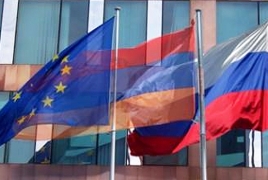 November 17, 2017 - 13:34 AMT
PanARMENIAN.Net - In the run-up to the Eastern Partnership summit, which is scheduled to take place on 24 November in Brussels, one important question has been pre-occupying the minds of those who are closely following events: will Yerevan sign the EU-Armenia Framework Agreement, considering the failure to sign the document in 2013, New Europe newspaper said in an article on Thursday, November 16.
"There is no doubt about Armenia's commitment to intensify its political and economic ties with the EU," the article says.
The planned signing of the Partnership and Cooperation Agreement on the sidelines of the upcoming Eastern Partnership summit in Brussels will be Armenia's second attempt to get closer to the EU. The first one failed in 2013, when, after three years of successful multidimensional cooperation between Brussels and Yerevan, Serzh Sargsyan, the President of Armenia, refused to sign an Associated Agreement with the EU. Instead, he announced that Armenia would join the Eurasian Economic Union (EEU).
"For some, the decision, taken by Sargsyan in the run-up to the 2013 EPS in Vilnius, was at first sight unexpected, but it barely surprised those who are familiar with the economic situation of this small South-Caucasian republic. Armenia, a landlocked country with very few natural resources, has long been dependent on imports of food, oil and natural gas. A sealed border with Turkey, uneasy relations with Azerbaijan (because of the protracted conflict in Nagorno-Karabakh), and the backing of Turkey by Baku, do not help to bring economic prosperity to Armenia. Considering these circumstances, this tiny Christian Orthodox country had no other options but to seek Russia's support. John Kennedy's favourite quote, "necessity has made us allies", is perhaps a way of perfectly describing this 'involuntary' alliance," the publication says.
"If Armenia signs the Partnership and Cooperation Agreement in Brussels next week, it will be the first member of the pro-Russian led projects EEU and CSTO to sign a framework agreement with the EU. It looks as though Armenia, trapped between its traditional ties to the East and a desire to integrate with the West, chose the latter option."