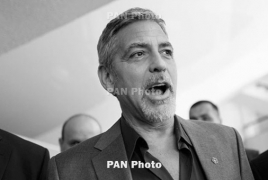 November 17, 2017 - 14:37 AMT
PanARMENIAN.Net - George Clooney will make his return to television in a serialised adaptation of Catch-22, Paramount Television revealed on Thursday, November 16, The Guardian reports.
The book mainly follows the life of Captain John Yossarian, a U.S. Army Air Forces B-25 bombardier.
In Catch-22, Heller introduces Yossarian as Assyrian, despite the fact that his surname suggests otherwise. In response to readers' curiosity, Heller amended Yossarian's heritage in Catch-22's 1994 sequel Closing Time. In the second book, Yossarian was declared Armenian.
Clooney, who left hit medical drama ER nearly 20 years ago, will direct and star in the six-episode series, based on US author Joseph Heller's darkly comedic 1961 novel of the same name.
The series will begin shooting in early 2018 for Viacom Inc's Paramount Television and Anonymous Content, but has not yet been acquired by a network for distribution.
Set in Italy during the second world war, Catch-22 follows a US soldier named Yossarian, whose army keeps raising the number of missions that a soldier must complete in order to be released from duty. In an infuriating bureaucratic paradox called a "catch-22" – a phrase coined in Heller's text – Yossarian's only way to avoid the missions is to declare insanity, but by indicating unwillingness to embark on dangerous missions he demonstrates a rational, sane mind.
Clooney, 56, will play Yossarian's commander Colonel Cathcart, and direct alongside his producing partner Grant Heslov. The show has been co-written and executive produced by Luke Davies and David Michôd. No other cast members have been announced.