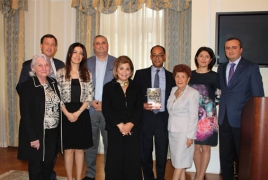 November 23, 2017 - 13:58 AMT
PanARMENIAN.Net - The Armenian Assembly of America (Assembly) and its Capital Region Council hosted its Annual Holiday Reception this month, with special guest His Imperial Highness Prince Ermias Sahle-Selassie of Ethiopia. Prince Ermias spoke highly of the bilateral relations between Ethiopia and Armenia that dates back centuries.
"At this point, it is both important and gratifying to know our two people - Ethiopia and Armenia - have been colleagues longer than most of the nations on this planet. Indeed, the Imperial Family has taken note of the active trade and civil relationships between Ethiopians and Armenians, extending back to the 3rd Century A.D. Moreover, Armenians and Ethiopians share a rich and historic connection as members of the same branch of Orthodox Christianity, as well as perhaps lesser known stories of the invaluable Armenian contributions to Ethiopian history," Prince Ermias said.
Prince Ermias, President of the Crown Council of Ethiopia, recalled the story of his grandfather, Emperor Haile Selassie I, and his encounters with Armenians. In 1924, when the Emperor was visiting Jerusalem, he came across a marching band of forty Armenian youngsters. When he asked who they were, he was told that they were all orphans who had escaped Ottoman Turkey during the Armenian Genocide. After listening to the band play, the Emperor was "struck by the band's musical talent." Thereupon the Emperor asked for permission from the Armenian Patriarchate of Jerusalem to adopt and bring the musicians to Ethiopia.
The Armenian musicians were then known as the "Arba Lijoch," which means forty children in Amharic, and were trained in Ethiopia by musical director Kevork Nalbandian. Nalbandian was an Armenian Genocide survivor, originally from Aintab in the southeastern region of the Ottoman Turkish Empire. The Armenian musicians came to form the Royal Imperial Brass Band, beginning a tradition in modern Ethiopian music of heavily using brass instruments. Amazed by their progress and skill, Emperor Selassie asked Nalbandian to compose a national anthem for Ethiopia. On November 2, 1930, the Emperor's coronation day, the Arba Lijoch unveiled the Imperial National Anthem, Marsh Teferi, which was Ethiopia's official anthem from 1930 to 1974. Prince Ermias told the audience that these Armenians became known as the "forerunners in the modernization of mainstream music in Ethiopia."
Over 100 guests attended the Holiday Reception, including Armenian Ambassador to the United States His Excellency Grigor Hovhannissian with his wife Victoria and Artsakh Permanent Representative to the U.S. Robert Avetisyan with his wife Elvina.