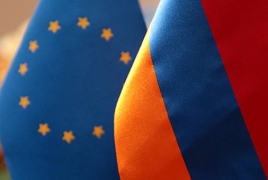 November 24, 2017 - 11:17 AMT
PanARMENIAN.Net - The leaders of the European Union and the six Eastern Partnership countries will meet in Brussels on Friday, November 24 in an effort to deepen ties between the EU and the former Soviet republics.
The summit's main event will likely be the signing of an enhanced EU partnership deal with Armenia, RFE/RL's Rikard Jozwiak said in an article on Thursday.
Armenia previously negotiated an EU Association Agreement. But Armenian president Serzh Sargsyan walked away from the deal in 2013 under pressure from Russia.
Armenia later joined the Moscow-led Eurasian Economic Union (EAEU).
However, Sargsyan told RFE/RL's Armenian Service upon arrival in Brussels on Thursday that Russia has never reproached him for cooperating with the EU. "All this time I've never heard from any Russian leader, and especially from President Vladimit Putin so much as a word of reproach about Armenia's cooperation with the EU," Sargsyan said.
Furthermore, the Armenian president said that there is no contradiction between Yerevan's EU partnership and its membership in the Russia-led Eurasian Economic Union.
"By signing this agreement we're saying that indeed it is possible to be a member of the Eurasian Economic Union and also be a member of the Eastern Partnership," Sargsyan said.
One paragraph concerning conflicts in the region has been left open after both Armenia and Azerbaijan wanted specific, but conflicting, statements on the breakaway Azerbaijani region of Nagorno Karabakh, according to a draft text seen by RFE/RL.
However, Armenia's Sargsyan told RFE/RL that he will not obstruct the signing of the final declaration over the mention of the Karabakh conflict in the summit's final declaration.
Read also: EPP statement backs Armenia-EU deal, peaceful Karabakh settlement