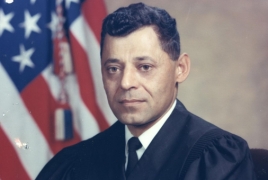 November 28, 2017 - 13:19 AMT
PanARMENIAN.Net - U.S. District Court Magistrate Judge Jacob Hagopian relished his years on the federal bench, but even more so his two decades in the U.S. Army, where he rose to become the youngest colonel at the time in 1968, Providence Journal reports.
Such was the remarkable life of Hagopian, who died Nov. 10 at age 90 with his family by his side.
Hagopian grew up poor in a Manton Avenue tenement in Providence, the son of the late Peter and Varvar Hagopian, who fled the Armenian Genocide. He left Mount Pleasant High School to enlist in the Army at age 17 and quickly rose through the ranks.
"He was true to his roots. He never forgot where he came from," said Thomas G. Shaffer, program director for the Master of Studies in Law at Roger Williams University School of Law who clerked for Hagopian from 1999 to 2008.
In addition to his son Mark and his wife,
Hagopian is survived by his wife, four sons and a daughter, as well as five grandchildren.