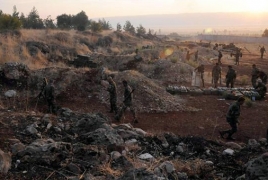 November 28, 2017 - 17:57 AMT
PanARMENIAN.Net - The Syrian Arab Army's (SAA) large-scale assault across the country has produced many advances on Tuesday, November 28, putting them in position to strike several important areas under the control of Hay'at Tahrir Al-Sham and their allies, Al-Masdar News reports.
Among the many advances made by the Syrian Army on Tuesday was their major push in the southern countryside of Aleppo that saw them capture several towns from Hay'at Tahrir Al-Sham.
Led by the 3rd and 5th legions, the Syrian army advanced from the recently captured town of Al-Rashidiyah to jihadist-held 'Azizah and Abisah.
The Syrian Army would capture the towns after a swift assault on Tuesday afternoon; this forced Hay'at Tahrir Al-Sham to retreat further south in order to avoid being overrun by the government units.
Following the capture of 'Azizah and Abisah, the Syrian Army would take control of Tal Talfah, Sawwan, and Al-Ramlah after swift sweep of this area.
The Syrian Army is currently attempting to reach the eastern border of the Idlib Governorate so that they can begin their assault on the Abu Dhuhour Military Airport.