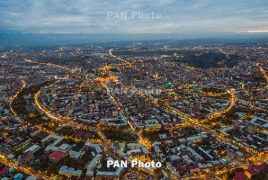 November 30, 2017 - 17:22 AMT
PanARMENIAN.Net - Armenia is the most convenient country for Russian citizens to obtain a U.S. visa outside Russia, exports from Aeroclub group of companies said after analyzing bookings of air tickets by Russian business tourists to the United States.
An alternative way to obtain an American visa for Russian citizens are the U.S. embassies in other countries.
According to preliminary assessments of the Aeroclub experts, Armenia is the most convenient option at the moment.
Citizens of Russia can travel to Armenia with an internal passport and pay the consular fees online. While the documents must be submitted in person, you can receive it by post, having pre-arranged the delivery at a local DHL office.
Some Russian business tourists go to get U.S. visas from Georgia, but this option is applicable only for the owners of two valid Russian passports or those who are willing to stay in the country until the issuance of a visa.
Latvia is another relatively convenient option for obtaining U.S. visas. However, anyone wishing to submit documents must also have a Schengen visa.