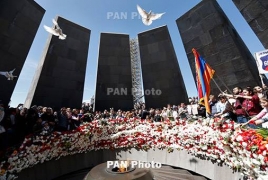 December 11, 2017 - 10:56 AMT
PanARMENIAN.Net - The leader of Israeli political party Yesh Atid, Yair Lapid, has spoken out against Turkish president Recep Tayyip Erdogan, invoking the Armenian Genocide to denounce the leader of the Muslim nation, The Times of Israel reports.
His comments came after Erdogan vowed to use "all means to fight" against the US recognition of Jerusalem as the country's capital.
"Palestine is an innocent victim… As for Israel, it is a terrorist state, yes, terrorist!" Erdogan said. "We will not abandon Jerusalem to the mercy of a state that kills children."
"Those who deny the murder of children in the Armenian Genocide should not preach morality at us," Lapid tweeted on Sunday.
Israel — along with other countries, including the United States — has refrained from formally recognizing the Armenian Genocide over fears of angering Turkey. Lapid has publicly called on Israel to recognize the targeted mass killings of 1.5 million Armenians as genocide.