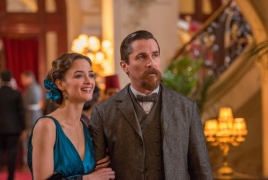 December 13, 2017 - 12:02 AMT
PanARMENIAN.Net - The USC IWitness landing page for the film "The Promise" about the Armenian Genocide is now live, adding voices of survivors to teaching activities and resources.
The Promise is a historical fiction film that conveys a multi-perspective history of the Armenian Genocide. As the plot of "The Promise" unfolds in the Ottoman Empire during 1914, on the brink of its entrance into the First World War and the Armenian Genocide, viewers discover the symbolic love between friends, family and one's national identity.
"The Promise" shares the story of Ottoman Armenian people and the brave men and women who risked their lives to help save them from complete annihilation.
IWitness program uses testimonies—personal stories—from survivors and witnesses of genocide to teach students worldwide the importance of compassion and in bringing about positive societal change. The goal of IWitness is to motivate students to act responsibly and ultimately to help them uphold important values. These include justice, equality, diversity, tolerance and how best to counter attitudes and acts of hatred.