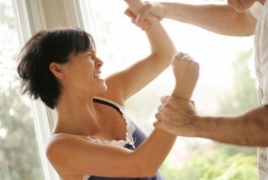 December 15, 2017 - 15:07 AMT
PanARMENIAN.Net - Cases of domestic violence in Armenian families are often revealed only after the stories get into criminal reports, BBC Russia says in an article.
The parliament on December 13 at its second and final reading passed the domestic violence law which stirred a lot of controversy among various groups of the Armenian society.
According to the Coalition to Stop Violence Against Women, at least 50 women have been killed as a result of domestic violence in Armenia since 2010. Furthermore, an OSCE study conducted in 2011 reveals that 60% of women in the country have been subjected to one or more forms of domestic violence.
"The adoption of the bill is an important step forward in the fight against domestic violence. I think it will help those who suffer humiliation today," said Hasmik Khachatryan, 31.
"A year ago my children and I were walking along the street. It was raining, and my daughter told me: 'Your hair smells like the night when father beat you.' The night he beat me I thought I would not live to see the morning ... I remember waking up in the morning on the floor as my daughter was stroking my head. She was six then."
As the publication says, Hasmik is only one of few women who openly talk about the humiliation they suffered at the hands of their ex-husbands. She had to endure them during the nine years of family life. Her story and a long trial with her ex-husband, who would not admit guilt, were largely covered by the media. He was charged with torture, but the charge was later reclassified as intentional infliction of bodily harm. As a result, the man was released under amnesty.