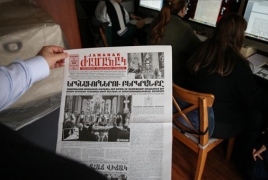 January 10, 2018 - 17:17 AMT
PanARMENIAN.Net - This year marks the 110th anniversary of the world's longest-running minority newspaper, Jamanak, which was created by Armenian brothers Misak and Sarkis Kocunyan in Oct. 1908 in Istanbul, Anadolu Agency says in an article.
Though its current weekly circulation is only 10 percent of the initial figure, the daily still covers a wide range of subjects, including arts, science, politics, and sports with its 10-member staff.
The newspaper also launched a digital version in 2013, thanks to which it now enjoys worldwide availability.
After Misak Kocunyan and Sarkis Kocunyan, Jamanak remained in the hands of the Kocunyan family and was finally passed down to its present head Ara Kocunyan, a fourth-generation member of the family, in 1992, when he became the youngest editor-in-chief in the world at 23.
The newspaper covers Turkish politics, world politics, developments in the Armenian world, but most importantly, issues that are of concern to the Armenian community in Istanbul.
"We have a publishing policy of focusing on the problems of the community's institutions and individual members. In addition, the agenda of Armenia and relations between Turkey and Armenia are reflected in our newspaper," Kocunyan said.