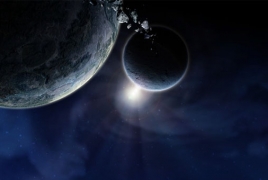 January 11, 2018 - 12:41 AMT
PanARMENIAN.Net - Sceintists are investigating the source of incredibly powerful explosions of extraterrestrial radio waves which have left them stumped, it has been revealed, according to The Express.
Researchers are perplexed by repeating bursts of radio waves that currently originate from the same location.
The fast radio bursts (FRBs) come from a dense stellar core near an extraordinarily powerful magnetic field like one near a massive black hole, according to a study.
Study co-lead author Jason Hessels, an astrophysicist at the University of Amsterdam, said: "It is the only known repeating fast radio burst source."
FRBs last just milliseconds and can give off more energy in a fraction of a second than the sun does in weeks.
They were discovered only in 2007 and while researchers have detected 20 or so in the last decade, it is estimated such flashes might occur as many as 10,000 times a day across the entire sky, according to researchers in the study.
Because of their brief nature, FRBs are a mystery and there is much to discover about their origins.
Prior work suggests some possibilities include that they are cataclysmic events such as the evaporation of black holes and collisions between neutron stars.
Professor Hessels added: "A key question in the field is whether this repeating fast radio burst source is fundamentally different compared to all the other apparently nonrepeating sources."