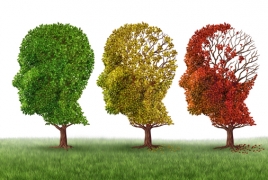 January 12, 2018 - 14:05 AMT
PanARMENIAN.Net - Quebec City researchers have created a new tool, called the Quoco test, to help family doctors evaluate a patient's mental capacity and possibly detect Alzheimer's as early as possible, Global News reports.
"What is the normal decline between 80 and 90 years old?" said family physician Patrick Bernier.
"Everyone has a decline with aging, but we didn't have – before this – we didn't have a tool to measure this."
Bernier is one of the researchers behind the Quoco test, along with six others, including biostatistician Pierre-Hugues Carmichael.
Carmichael explained the test uses scores from a standard questionnaire, called the Mini-mental state examination (MMSE).
"The doctor then will use your age and your education to establish your baseline cognition essentially," he said.
The test is available from the app store for $4, but has been designed with GPs in mind.
The researchers hope all family doctors in Quebec will download it in order to start diagnosing dementia earlier.
"We want to catch Alzheimer's as early as possible," Carmichael said.