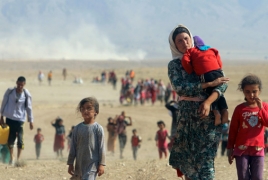 January 17, 2018 - 12:22 AMT
PanARMENIAN.Net - Yezidi human rights activist and Nobel Peace Prize nominee Nadia Murad and Yazda - a United States-based global Yezidi NGO, welcome the recognition of the genocide of Yezidis by the Armenian parliament, the organization said on its webiste.
"The recognition of the Yezidi Genocide by the Armenian parliament is a historic moment for the entire Yezidi community worldwide and for victims of this genocide. We welcome this important step especially as it comes from a country which, in recent history, has suffered greatly from genocide," the statement said.
Murad said she is touched by the decision and expressed gratitude to the people of Armenia and their representatives in Parliament.
"Acknowledgment of the genocide means a lot to me and all the victims of genocide." said Murad, the UNODC Goodwill Ambassador for dignity of Survivors of Human Trafficking.
"The Yezidi genocide is the latest capital crime of our century, the world should recognize this crime and accept the fact it happened, not only recognize it, but take the steps to stop it and adopt mechanisms to ensure it will not be repeated in the future" said Murad Ismael, Yazda Executive Director.
The Armenian parliament adopted on Tuesday, January 16 a joint statement of all parliamentary factions "On the condemnation of the genocide against the Yezidi people in 2014, carried out on terrorist-controlled areas in Iraq."
According to deputy chairman of the standing committee on state and legal affairs and human rights Rustam Makhmudyan, the Armenian people who survived the Genocide could not ignore such acts against humanity.