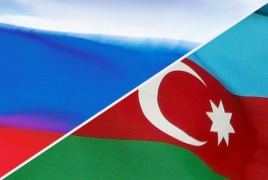 January 19, 2018 - 18:59 AMT
PanARMENIAN.Net - Russia has shipped another batch of ammunition, weapons and modern military equipment to Azerbaijan under an intergovernmental agreement between the two countries, the Azerbaijani Defense Ministry revealed on Friday, January 19.
The weapons that Moscow sends on a regular basis to Azerbaijan end up on the contact line with Nagorno Karabakh and are being used against the Armenian soldiers.
A large quantity of modern military equipment delivered from Russia to the port of Baku will soon be transferred to the military units on the frontline, said the ministry.
The ministry noted that this type of military equipment, which has excellent fire capabilities and high terrain crossing ability in mountainous conditions, /;was successfully used during combat operations in April 2016."
Azerbaijan on April 2, 2016 launched over military operations against Karabakh which left hundreds dead on both sides. Top Armenian and Azerbaijani defense officials reached an agreement on the cessation of hostilities on April 5.