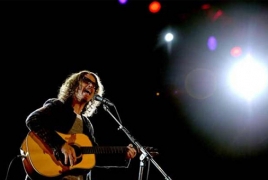 January 27, 2018 - 10:31 AMT
PanARMENIAN.Net - The Associated Press predicts that Soundgarden frontman Chris Cornell's 'The Promise' which he wrote for the movie of the same name about the Armenian Genocide will posthumously win in the Best Rock Performance category at the Grammy Awards.
Also nominated in the same category are "You Want It Darker" by Leonard Cohen; "Run" by Foo Fighters; "No Good" by Kaleo; "Go to War" by Nothing More.
The global entertainment and lifestyles editor for the news agency Nekesa Mumbi Moody said she'd normally say the Foo Fighters, but there are two chances to give a posthumous honor, with Cohen, who died in 2016, and Cornell, who died last year.
"Cornell's suicide at the age of 52 may have affected more people, and his song, about the Armenian Genocide, is resonating now," Moody said.
"I think Cornell takes it — and it's richly deserved."
AP's music editor Mesfin Fekadu said, in turn, that Cornell is definitely winning in the category.
"It would have been epic to see another great who died last year — Chester Bennington — nominated here for something from Linkin Park's latest album, 'One More Light.'"