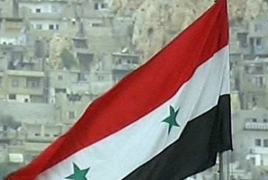 January 30, 2018 - 10:58 AMT
PanARMENIAN.Net - On the night of Sunday to Monday (January 28-29), artillery forces of the Syrian Arab Army fired what appears to have been warning shots just ahead of the approach path of a Turkish convoy inbound to a key area in the southwestern countryside of Aleppo province, Al-Masdar News reports.
A large Turkish army military convoy consisting of armored vehicles has had a Syrian army artillery barrage fired just ahead of its advance route in southwest Aleppo province as it was en-route to the strategic area of Tal Al-Eis on Sunday night.
The Syrian army artillery strikes landed in and around the town of Qammari just before Turkish forces were due to pass through it.
Some sources report that the artillery shelling was the result of a miscommunication between Damascus and Ankara over the agreed time for the allowed deployment of Turkish forces around Tal Al-Eis, saying that the Syrian army had mistaken the military convoy as belonging to Al-Qaeda affiliate group Ha'yat Tahrir al-Sham (formerly Jabhat al-Nusra).
However, this version of events remains hard to believe due to the fact that if the Syrian army genuinely mistook the Turkish convoy for a militant one, they would have shelled it directly without any warning or intention of missing, the Syrian media outlet says.