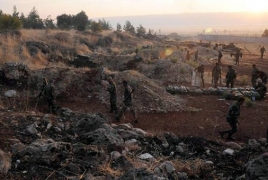 February 15, 2018 - 13:54 AMT
PanARMENIAN.Net - A militant sleeper agent belonging to an unknown faction (if any) carried out an assassination attack on three high-ranking commanders belonging to the Syrian Arab Army's elite Tiger Forces Division whilst they were on leave in Tartus city last night, Al-Masdar News reports citing pro-government sources.
Reports state that Tiger Forces commanders Duraid Awad, Abu al-Harith and Raed Zinah came under grenade attack in Tartus on either late Wednesday, February 14 afternoon or very early Thursday morning (exact time not clarified) whilst traveling in the same car.
Whilst it can be confirmed that none of the Syrian Army commanders were killed, it is not clear if any were injured and, if so, to what degree.
Reports hint that there was only one perpetrator involved in the attack. The allegiance of the attacker is unknown.
Commanders Duraid Awad, Abu al-Harith and Raed Zinah were all on service break in Tartus following a successful operation against armed rebel groups and IS in northwest Syria.