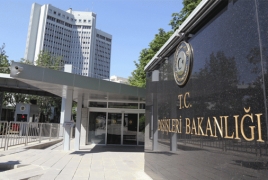 February 23, 2018 - 10:06 AMT
PanARMENIAN.Net - Turkey's foreign ministry on Thursday, February 22 condemned the Dutch parliament's approval of a motion recognizing as Genocide the massacre of as many as 1.5 million Armenians in 1915, Reuters reports.
The ministry said in a written statement that the decision was not legally binding or valid, and noted that the Dutch government had said it would not become the official policy of the Netherlands.
Under another motion, also approved on Thursday, a Dutch cabinet representative should attend the commemoration of Genocide in Armenia in April.
The Armenian foreign ministry, meanwhile, said Yerevan highly appreciates the debates held in the Parliament of Netherlands and the decisions adopted as a result.
"With this step, the Parliament of the Netherlands once again reconfirmed its commitment to universal human values and the noble cause of prevention of genocides and crimes against humanity," foreign minister Edward Nalbandian said.
The Dutch parliament had in April 2015 passed a binding resolution recognizing the genocide of Assyrians, Greeks and Armenians by Ottoman Turks during World War One.
Some three dozen countries, hundreds of local government bodies and international organizations have so far recognized the killings of 1.5 million Armenians in the Ottoman Empire as Genocide.
Turkey denies to this day.