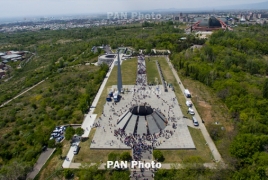 February 26, 2018 - 11:45 AMT
PanARMENIAN.Net - The International Raoul Wallenberg Foundation has expressed "deep disappointment" in the Israeli parliament's rejection of a bill to recognize the Armenian Genocide in mid-February.
The Israeli Knesset rejected a bill sponsored by Yesh Atid chairman Yair Lapid to have Israel recognize the Armenian Genocide in a preliminary vote.
"We are not able to understand, let alone justify this stance," the Foundation said in a statement dated February 22.
"Israel is the national home of the Jewish people, who suffered an undescribable plight during the Shoah. Twenty five years earlier, the Armenian people endured another unspeakable tragedy, which, in light of the world's silence, many believe has encouraged the Nazis to perpetrate their atrocities against the Jews during WWII.
"We see a deep connection between Jews and Armenians. In fact, 24 Armenians, have been officially proclaimed Righteous among the Nations so far, a staggering number in relation to the size of the population. We have contributed to unveiling some of these courageous Armenians and we are still working on other cases, with the aim of having them officially recognized."
When discussing the bill in the Knesset, deputy foreign minister Tzipi Hotovely said he sent a parliamentary delegation to the 100th anniversary event in Yerevan, but will not take an official stance on the matter, "in light of its complexity and diplomatic repercussions, and because it has a clear political connection."