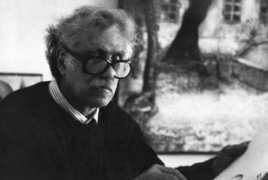 February 28, 2018 - 13:36 AMT
PanARMENIAN.Net - Lebanese Armenian artist Paul Guiragossian's show was organised at the Barjeel Art Foundation in Sharjah on the 25th anniversary of his death. The exhibition, curated by Sheikha Maisa Al Qassimi, looks at the artist's paintings as they developed from the 1950s to the 1990s, passing through abstraction and figuration, in thick paint-handling or depicting biblical motifs, with people as the ever-present subject, The National reports.
Guiragossian was born in 1926 to Armenian parents who were survivors of the Genocide in the First World War. He settled in Beirut in late 1947, making the city his home. (The city returned the favour: when he died, it honoured him with a state funeral.) First he lived in Lebanon's small Armenian community and later among its intellectuals, speaking Armenian, Arabic and French, in addition to English, Italian, Hebrew and others, according to his daughter. He was a consummate multiculturalist in a city known for its great diversity.
"He grew up with multiple cultures," says Manuella Guiragossian – who advised on the show along with Barjeel curator Mandy Merzaban – of her father. "He had a real interest in ancient civilisations and educated himself about all of them. In his lectures, you see he goes into art history not only of the West, but also of the East, and then he gives you his own analytical fusion, if you like, of all of these civilisations and movements coming together."
Guiragossian was educated in a convent, and his work ranged from religious motifs to the kind of colourful abstraction that marks much of Arab Modernism, and he moved between abstraction and representation throughout his life. While he is best known for the images of standing figures, the show - Paul Guiragossian: Testimonies of Existence - includes a number of works from early in his career, in which the portrayal of families is crucial, often centring on the dyad of mother and child. Madonna and Child – dating circa 1957 and the oldest work in the show – is executed in a sombre, golden palette of Byzantine icons.