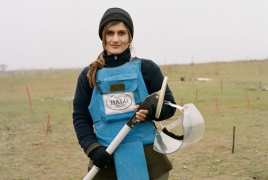 March 9, 2018 - 15:15 AMT
PanARMENIAN.Net - Narine Asatryan says in a conversation with Al Jazeera that finding a landmine is a feeling like no other. She is one of The HALO Trust's de-miners in Nagorno Karabakh, and has found two anti-personnel mines so far.
For her, working as a de-miner offers a chance to make a positive effect in her community.
Amid heavy snow, the electricity is out across the entire region, and heat is provided by a gas stove in the centre of the room. Beneath the house, a steep hillside descends into the wintry valley below.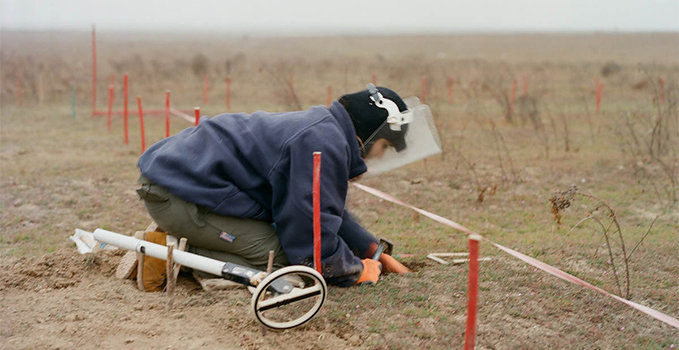 Alvina searches for PMN-2 mines at Marzili. These anti-personnel mines were used heavily during the Nagorno-Karabakh War (1988-1994). Manufactured in the Soviet Union, these small circular devices can be triggered by any form of pressure. Originally designed to disable an adult, a PMN-2 can kill a child. EVA CLIFFORD/AL JAZEERA
One of the toughest parts of the job is working in such extreme weather, says Inga Avanesyan, another HALO de-miner.
Today, the team has had to stand down because the snow prevents them from working. But the snow is nothing compared with the other challenges they face.
Dedicated to clearing landmines across the world, The HALO Trust has been operating in Nagorno Karabakh since 2000.
In 2015, HALO employed its first, female de-mining team; there are now 11 women, with more undergoing training this year.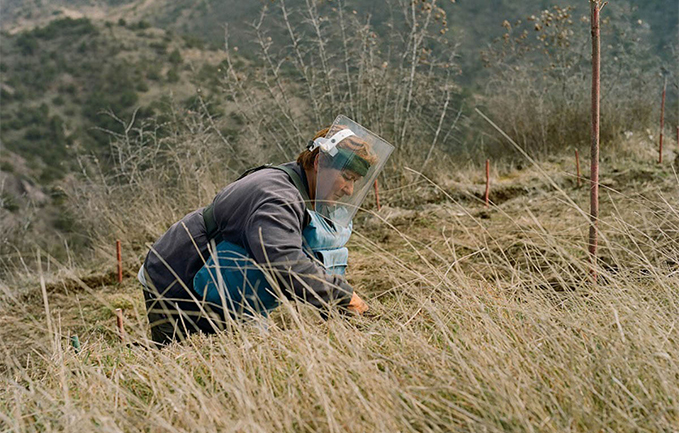 Military positions once lined the tops of these hills during the Nagorno-Karabakh War (1988-1994). When the residents of a nearby village noticed a landmine they alerted The HALO Trust, who dispatched a team to survey and clear the area. The village, being just 1.2km away, means children regularly come to play here. The team carries out a full excavation so that they can ensure the land is mine-free before handing it back to the local community. EVA CLIFFORD/AL JAZEERA
Defying traditional gender roles, they are able to provide for their families as well as making a tangible difference in their communities.