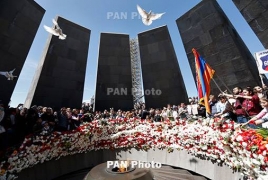 March 15, 2018 - 16:34 AMT
PanARMENIAN.Net - American actor and producer Dean Cain, who stars in and has executive-produced the documentary "Architects of Denial", recently visited Israel where he took the chance to speak about the international recognition of the Armenian Genocide, The Jerusalem Post reports.
The documentary uses expert testimony and survivor experiences to explore genocides throughout history and how continued denial of the Armenian Genocide contributes to future atrocities.
Israel has not recognized the Armenian Genocide because of its relations with Turkey. While Cain said he wouldn't tell a foreign country what to do, he hopes every government would recognize the Genocide, because "it's a historic fact."
"I do understand the political ramifications in the US – it's because we have diplomatic relations with Turkey. For anyone who studies genocide or history, it's very clear the genocide took place. It's not the people of Turkey today who did it, or even the government... It was horrible – call it what it was," Cain said.
Some three dozen countries, hundreds of local government bodies and international organizations have so far recognized the killings of 1.5 million Armenians in the Ottoman Empire as Genocide.
U.S. President Donald Trump and past U.S. presidents have failed to recognize the massacre — where 1.5 million Armenians were killed more than a century ago by Ottoman Turks — as a genocide.
Turkey denies to this day.