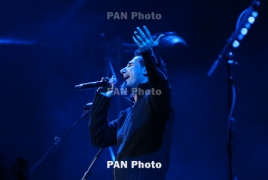 March 21, 2018 - 14:01 AMT
PanARMENIAN.Net - "System of a Down" singer Serj Tankian joined surviving "Audioslave" members Tom Morello, Tim Commerford, and Brad Wilk to perform "Like a Stone" in Auckland, New Zealand on Monday, March 19 during a Prophets of Rage show, Alternative Nation reports.
Morello wrote on Instagram, "Thanks @serjtankian for a stunning, emotional, beautiful, chilling tribute to #ChrisCornell tonight in Auckland. #LikeAStone".
Tankian also performed with Audioslave's surviving members last year.
Chris Cornell was posthumously awarded Human Rights Watch's inaugural Promise Award at a Los Angeles gala in November, with Tankian giving a speech.
"We're here tonight to honor a compassionate, just and gentle human being who I had the great pleasure to call my friend, Chris Cornell," Tankian said. "His voice was always honest, caring and real. It's difficult to successfully lie through art. The man himself was always honest, caring and real."
Tankian also talked about Cornell's theme song for "The Promise", a 2016 film about the Armenian Genocide. "When Chris learned that all the proceeds from the film were ultimately going to be donated to charitable organizations, he also made the decision to donate all of his proceeds from the song to support refugees and children."