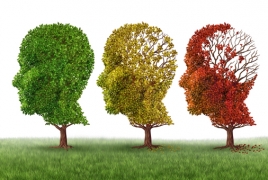 March 24, 2018 - 13:21 AMT
PanARMENIAN.Net - For the second consecutive year, total payments to care for individuals living with Alzheimer's or other dementias will surpass a quarter of a trillion dollars ($277 billion), which includes an increase of nearly $20 billion from last year, The Edmond Sun reports citing data provided in the Alzheimer's Association 2018 Alzheimer's Disease Facts and Figures survey.
New findings from the report show the growing burden of Alzheimer's on people living with the disease, their families and caregivers, as well as society at large. The number of older Americans is growing rapidly, so too is the number of people living with Alzheimer's and the subsequent impact to the nation's economy. By 2050, the total cost of care for Alzheimer's is projected to increase to more than $1.1 trillion.
Given the long duration of this disease, the strain on Alzheimer's caregivers can last several years and produce serious declines in caregiver physical, emotional and financial well-being. In 2017, 16 million Americans provided an estimated 18.4 billion hours of unpaid care in the form of physical, emotional and financial support – a contribution to the nation valued at $232.1 billion. The difficulties associated with providing this level of care are estimated to have resulted in $11.4 billion in additional healthcare costs for Alzheimer's and other dementia caregivers in 2017.
Mortality from Alzheimer's disease continues to rise. While deaths from other major causes continue to decrease, new data from the report shows that deaths from Alzheimer's disease have more than doubled, increasing 123 percent between 2000 and 2015. For context the number of deaths from heart disease – the number one killer in America – decreased 11 percent.