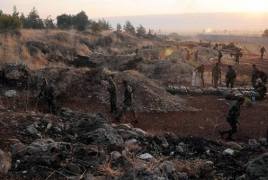 April 2, 2018 - 14:06 AMT
PanARMENIAN.Net - With their military operations in the East Ghouta coming to an end, the Syrian Arab Army (SAA) has been mobilizing their troops in the country's south for what is expected to be their next major offensive, Al-Masdar News reports.
Units from the Syrian Arab Army's 5th, 7th, and 9th divisions have already been redeployed to the southern provinces of Dara'a and Al-Quneitra; however, several more troops are expected to head to these governorates in the coming days.
According to a military source in Damascus, the Syrian army's first target in southern Syria will be the Al-Quneitra Governorate.
The Syrian army is already in control of the northern part of Al-Quneitra, but the remaining towns to the south, including the provincial capital, "remain in possession of the jihadist rebels."
To capture Al-Quneitra, the Syrian army may find themselves in a tough situation, as the Israeli Defense Forces (IDF) will be within artillery range of their units.
The IDF has targeted the Syrian army on several occasions in the past, but the military support to the Islamist rebels has only been limited in Al-Quneitra.
The offensive in the country's south by the Syrian Arab Army is expected to commence in early May.