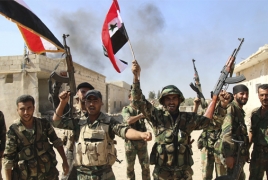 April 7, 2018 - 16:59 AMT
PanARMENIAN.Net - The Syrian army and allied Palestinian paramilitary groups have scored an advance on the rebel-held district city of Douma (east Damascus) from the west and south, Al-Masdar News reports.
From the western direction, the Syrian army and Palestinian Al-Quds Brigade (Liwa Al-Quds) have manged to fight their way through most of the farmland buffer zone between the M5 highway and Douma to reach the city's gates. Reports that the first residential buildings have been captured are not yet confirmed.
Likewise on the southern axis, the Syrian army has advanced from the district of Masraba to seize a number of farms very close to the city – militant trenches and tunnels were overrun in the process.
At the same time, the Syrian army continues to battle its way towards Douma from the east as well; here the main objective is to first dislodge the lingering rebel presence in Ar-Rayhan.