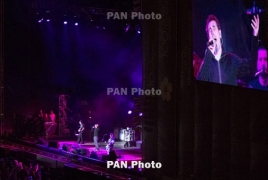 April 10, 2018 - 10:04 AMT
PanARMENIAN.Net - System of a Down announced a five-date run starting October 13th in San Bernardino, California through October 19th in Las Vegas, Nevada, Rolling Stone reports.
The alt-metal quartet last performed in the U.S. during their 2015 "Wake Up the Souls" tour, which commemorated the 100th anniversary of the Armenian Genocide. Their final American date during the trek was September 12th at the Chicago installment of Riot Fest. They most recently toured throughout Europe in 2017.
System of a Down have toured sporadically since their 2010 reunion, which followed a five-year absence after issuing their back-to-back 2005 LPs, Mezmerize and Hypnotize. The band teased a potential sixth album in various interviews over the last few years, though the project has not materialized.
In December, frontman Serj Tankian told Rolling Stone that the band members "discussed" a possible record and "played each other songs," but noted they "still haven't come eye to eye on how things should be done for us to be able to move forward with it." However, he clarified that the band still enjoyed touring together – and that their lack of studio output was not a reflection on their camaraderie.
"That's the funny thing," Tankian said. "When people don't see a record, they assume the worst about your internal relationship. But the truth is we're actually better friends – at least I'm better friends with everyone than I've ever been. John's my brother-in-law; he's in my family. We have a great time together touring. But sometimes putting together a record, and that creative output and how things should be done, is different in four people's heads and it doesn't always come together. Fortunate or unfortunate, however you want to call it, that's the truth. But touring is easy, because you've done all these songs. You have fun, you go out and tour, and that's it."