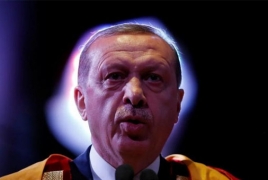 April 10, 2018 - 16:37 AMT
PanARMENIAN.Net - Turkish President Recep Tayyip Erdogan on Tuesday, April 10 criticized the proposal of Russian Foreign Minister Sergey Lavrov, who suggested that Ankara might yield the control of the Syrian city of Afrin to Damascus, Sputnik reports.
"Lavrov's approach is not correct. We know better than anyone to which side Afrin should be transferred. When the time comes, we will give Afrin to its inhabitants," Erdogan told reporters.
The president commented on Monday's statement by Russian Foreign Minister Sergey Lavrov, who said that Moscow was hoping that Turkey would return the control of the city to the Syrian government.
Speaking about the Kurdish-dominated Syrian city of Afrin, which fell under the full control of Turkish armed forces on March 24, country's Deputy Prime Minister Bekir Bozdag stated that the Turkish army would pull out from the city after a political settlement in the country is reached.
Ankara launched Operation Olive Branch in Syria'snorthern district of Afrin On January 20, explaining it by the necessity clean the border from what it described as "terrorist army." The military offensive kicked off as a response to the US' decision to start training a 30,000-strong border security force, Syrian Democratic Forces, largely comprised of the Kurdish People'sProtection Units (YPG) militia, which Ankara believes is affiliated with the Kurdistan Workers' Party (PKK), listed as a terrorist organization by Turkey.
The operation has drawn a strong objection from Damascus, which has described Ankara's offensive as a "violation of Syria's sovereignty." Turkey, in response, insisted that the Turkish forces targeted only terrorists and were not going to attack government army