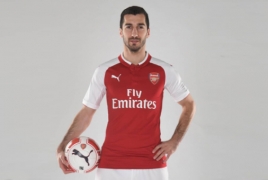 April 24, 2018 - 18:05 AMT
PanARMENIAN.Net - Armenians showed to the world a great model of soft power and today they are demonstrating unity in remembering the victims of the first Genocide of 20th century, Armenian midfielder Henrikh Mkhitaryan said in a Facebook post on Tuesday, April 24.
On Tuesday, Armenians worldwide are commemorating the 103rd anniversary of the Genocide which began in the Ottoman Empire in 1915 and continued until 1923. Some three dozen countries, hundreds of local government bodies and international organizations have so far recognized the killings of 1.5 million Armenians in the Ottoman Empire as Genocide. Turkey denies to this day.
"It is time to internationally recognize this crime against humanity and to empower modern society's commitment to prevent the repetition of such atrocities," the Arsenal playmaker said.
"Our gratitude to dozen of countries that have recognized the Armenian Genocide."