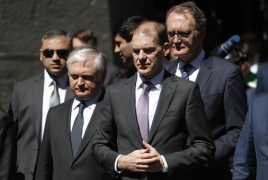 April 24, 2018 - 18:21 AMT
PanARMENIAN.Net - Junior finance minister Menno Snel attended a ceremony to mark the 103rd anniversary of the Armenian Genocide on behalf the Dutch parliament on Tuesday, April 24, DutchNews.nl says.
Parliament voted in February almost unanimously in favour or recognising the killing of 1.5 million Armenians in the dying days of the Ottoman Empire as genocide. Only Denk voted against the motion. The government then agreed to send a minister to the commemoration of the Armenian genocide in Yerevan, in line with parliament's wishes, without formally recognising the genocide as such.
"By attending the commemoration we are showing our respect for the terrible events done to minorities, in the same way that the government attends the commemoration of the Dutch slavery history," Minister for Foreign Trade and Development Cooperation Sigrid Kaag said during a debate on the issue.
Snel declined to speak to reporters after the ceremony, broadcaster NOS said.