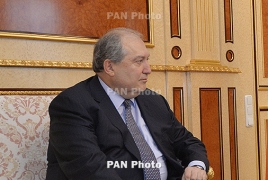 April 30, 2018 - 13:25 AMT
PanARMENIAN.Net - Membership in the Eurasian Economic Union is in the "fundamental interests" of Armenia, president Armen Sarkissian said in an interview with Belarus 1 TV channel.
"The EAEU is a friendly space for us as all the member-states are brotherly nations for us," the president said.
"This is not a mere union, it's a major market for us."
According to Sarkissian, Armenia's membership in the Eurasian Union "is anchored on our fundamental interests, and not because we have been forced [to joint the EAEU]."
The opposition Yelk bloc has repeatedly called for abandoning the bloc and building closer relationship with the European Union. Its candidate for PM Nikol Pashinyan, however, said recently that they have set themselves no such task.
An opposition leader and the founder and head of Civil Contract party, Pashinyan leads a campaign against the ruling authorities, which has seen thousands of Armenians take to the streets in massive protests.
Prime minister Serzh Sargsyan was forced to resign on Monday, and Pashinyan is now seeking the appointment as prime minister by the National Assembly of what he calls "the people's candidate," the formation of a temporary government and snap parliamentary elections.
In the past two days, all the parliamentary factions have either expressed support for Pashinyan's candidacy -which was announced on Monday, April 30 - as PM or have at least refused to nominate their own candidates for the prime minister's post.