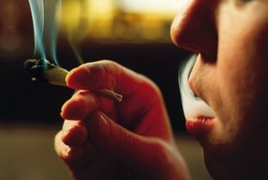 May 3, 2018 - 16:28 AMT
PanARMENIAN.Net - A growing number of clinical trials are looking into whether compounds in marijuana can be used to treat some of the symptoms of autism.
One of these clinical trials was just announced at the University of California, San Diego, and others are slated to take place in New York at Montefiore Medical Center and New York University, and in Israel at Shaare Zedek Medical Center, Live Science reports.
These trials were prompted, in part, by the success of other clinical trials investigating whether cannabis could effectively and safely treat other neurological disorders, including two rare forms of epilepsy and a condition called fragile X syndrome. [7 Ways Marijuana May Affect the Brain]
There have also been a slew of anecdotal stories from parents of children with autism saying that cannabis improved their children's symptoms. But more evidence is needed to make sure that specific compounds in cannabis are a safe and effective treatment for symptoms of autism spectrum disorder, said Dr. Orrin Devinsky, director of NYU Langone's Comprehensive Epilepsy Center, who is involved in two of the upcoming clinical trials. (Parents should not give their children cannabis, or cannabis-related compounds, without consulting with a doctor first.)
"There's not been a huge amount of data generated in this area," Devinsky told Live Science. "There's a lot of religion and not a lot of science."
Autism spectrum disorder — a neurodevelopmental condition that affects communication, behavior and the ability to interact with others — is diagnosed in an estimated 1 in 59 children in the U.S., according to the Centers for Disease Control and Prevention.
There is no cure for autism (although a small percentage of children do appear to outgrow it), and there are few treatments for its symptoms. But, because of the potential promise of cannabis treatments, the Ray and Tye Noorda Foundation, a nonprofit based in Utah, donated $4.7 million to the Center for Medicinal Cannabis Research (CMCR) at the UC San Diego School of Medicine — the largest private gift to date for medicinal cannabis research in the United States, according to an April 25 statement from the university.