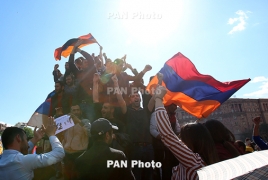 May 4, 2018 - 10:44 AMT
PanARMENIAN.Net - Ousting your prime minister can be seriously hard work. But it should be fun, too. That is the impression Armenia gave in recent weeks, where hundreds of thousands staged anti-government rallies, part of a bloodless revolution in the small country that managed to throw off -- at least, so far -- authoritarian rule, The Washington Post says in an article.
And when the people in the country of 3 million were not blocking highways, going on strike and waving the tricolor Armenian flag, they were engaged in an activity altogether unassociated with revolution: dancing.
"Since charismatic opposition leader Nikol Pashinyan began the protests in mid-April, the Armenian capital, Yerevan, has been engulfed in carnivalesque street parties, filled with mostly young people rebelling against what they saw as a corrupt, ruling elite. Their pro-democracy movement managed to force Serzh Sargsyan to step down as prime minister, after more than a decade in power," the article by Amie Ferris-Rotman says.
"With folk music blasting from the stereos of parked cars, groups of protesters would break off from the crowds to link arms and cavort in concentric circles.
"Sometimes, men shakily hoisted each other onto their shoulders to rapturous applause from fellow revelers. Demonstrators also performed the traditional kochari dance, holding hands and crossing their legs in unison to the melodies of string and wind instruments."
Armenians feel strongly about their dancing, seeing it as a bond between the country and the scattered diaspora, Ferris-Rotman says. Armenian dance ensembles regularly perform from Los Angeles to Moscow, and elaborate dance routines are part of traditional Armenian wedding ceremonies. Last year, UNESCO placed the Armenian kochari dance on a cultural heritage list.
Performance at the revolution was not limited to dancing: a group of musicians, including violinists and cellists, blocked the entrance to the Ministry of Culture this week, where they played harmonies from the late 19th- and early 20th-century Armenian composer Komitas Vardapet. They were joined by a puppet troupe, who poked fun at lawmakers. Later the same day, the minister resigned.
Pashinyan, raffish at 42 and often dressed in a uniform of sorts -- a camouflage T-shirt, backpack and black cap -- has hailed the movement as proof of Armenia's "people power." When Sargsyan resigned, he wrote in a tersely worded statement, "I was wrong. The street movement is against my tenure" -- rare words to be uttered by a leader in the former Soviet space.
"The people's revolution is still underway. On May 1, the Armenian parliament voted against making Pashinyan, who was the sole candidate, prime minister, and a new vote will be held on May 8. Under instructions from their leader, the protesters are now taking a break, to "save their strength."
"They will certainly need it," the article concludes.