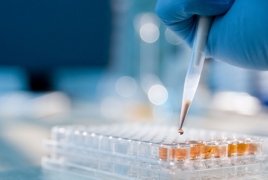 May 10, 2018 - 14:09 AMT
PanARMENIAN.Net - Scientists say their understanding of hepatitis B has been "transformed" after the virus was found in a 4,500-year-old skeleton, SkyNews reports.
Dating from the Bronze Age, it is the oldest evidence of a human virus ever found.
Previously, the oldest detected virus was about 450 years old. Most have been no more than 50 years old.
Prior to the discovery, researchers were "in the dark regarding ancient sequences".
It was like "trying to study evolution without fossils", said joint first author Dr Terry Jones from Cambridge University.
"If we only studied the animals living today it would give us a very inaccurate picture of their evolution. It is the same with viruses," he said.
It has also been discovered that viruses can become extinct. The Bronze Age strain of hepatitis B (HBV) no longer exists.
While HBV is thought to have infected the ancestors of modern birds during the dinosaur era, little is known about its evolution.
In the modern world, HBV affects millions of people worldwide. Potentially lethal complications include cancer of the liver.
For the research, a large collection of bones was collected from central and western Eurasia (the combined continental land mass of Europe and Asia).
Evidence of HBV infection was found in 25 of about 300 individuals dating from the Bronze Age to medieval times, spanning a period of almost 4,000 years.
Of those, 12 skeletons yielded enough of the viral genetic code to enable detailed analysis.
A person emanating from the Bronze Age Beaker culture in Osterhofen, Germany, was almost 4,488 years old.
"People have tried to unravel the history of HBV for decades," said co-lead author Barbara Muhlemann, a PhD student.
"This study transforms our understanding of the virus and proves it affected people as far back as the Bronze Age.