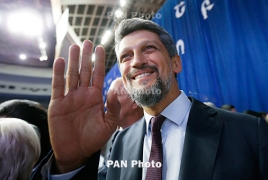 May 11, 2018 - 10:36 AMT
PanARMENIAN.Net - Garo Paylan and Selina Dogan, two Armenian lawmakers of the Turkish Parliament expressed congratulations to the people of Armenia for their peaceful and non-violent movement that changed Armenia's leadership and ushered in a new hope for Armenia's population, Asbarez says.
"The Armenian people won in its fight for democracy. Congratulations!" said Paylan, a member of the People's Democratic Party (SDP) on Twitter.
Dogan, who represents the Republican People's Party (CHP) said in a post on Twitter: "Developments are taking place in Armenia that will pass into the history of the world democracy. No power can stop the people's demand for change and democracy. Congratulations to the victory of the leaders and people fighting for this demand. #GetzeHayastan!"
After weeks of peaceful protests which paralyzed traffic in Yerevan and across the republic, former prime minister Serzh Sargsyan was forced to resign, with the parliament ultimately electing protest leader Nikol Pashinyan as the new head of government.