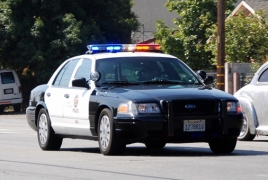 May 18, 2018 - 11:20 AMT
PanARMENIAN.Net - A suburban Los Angeles cop — who previously sued his department for discriminating against Armenian-American officers — was charged with trying to hide his ties to the Armenian and Mexican mafias, The New York Daily News reports.
John Balian, who is of Armenian descent, was arrested for misleading the FBI and LAPD as far back as April 2017 about his ties to the organized crime groups.
A 47-page affidavit unsealed Tuesday, May 16 as part of his charges claimed the 45-year-old Glendale police veteran used burner phones to warn criminals about police raids, worked with gangsters to lift cars and intimidated people.
But Balian has only been charged with one count of making a false statement to federal investigators after meeting with them four times over the last year.
He first came onto the feds' radar in 2016 as part of a probe into interactions between Armenian and Mexican gangs in southern California.
In 2010, he was part of a settlement with Glendale, after he and four other Armenian-American officers sued the department for discrimination. Balian got 50 vacation hours and 250 sick time hours as well as $7,500 for legal fees, according to the Los Angeles Times.
When Balian sat down with authorities last year, he claimed he wasn't affiliated with Mexican mob boss Jose Loza, even though "Balian was communicating with Loza via a burner cell phone to discuss jointly undertaken criminal activities," an affidavit filed in U.S. District Court said.
Three informants told federal investigators about how Balian moved between the two gangs.
He asked one to intimidate an Armenian bodyguard for $100,000, authorities said, and rough others up to collect debts.
Balian also warned about a police arrest of gang members, which allowed one suspect who was "No. 1 on the list" to escape federal authorities for more than a month, or to clear out drug facilities.
One of the informants also told federal agents Balian had him rip 15 cars off the street in a single year, which were then shipped overseas.
"The defendant swore to uphold an oath to enforce the law, but instead chose to break the law," said Paul Delacourt, assistant director in charge of the FBI's Los Angeles office, in a statement. "Mr. Balian moved in criminal circles and operated as though he was above the law by repeatedly lying to hide his criminal activity and that of others."
Balian faces five years in prison if he's convicted.