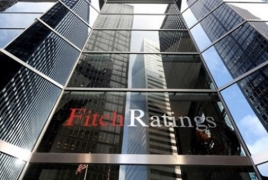 May 18, 2018 - 14:53 AMT
PanARMENIAN.Net - Economic disruption from Armenia's transition, in which massive protests forced former Prime Minister Serzh Sargsyan to resign and opposition leader Nikol Pashinyan was elected the new head of government appears to have been minimal, Fitch Ratings says.
According to the agency, the peaceful resolution of the country's political crisis via constitutional processes, and the continued smooth functioning of economic institutions such as the central bank have minimised the impact of the crisis on the economy.
The incoming government's capacity to meet supporters' expectations for change without a parliamentary majority will determine how long its honeymoon period lasts, although we expect broad economic policy continuity, the assessment says.
Pashinyan, previously a journalist and opposition party leader, was elected Prime Minister after winning a second parliamentary vote (59-42) on May 8, following weeks of large-scale protests that led to the resignation of Sargsyan. Protestors objected to Sargsyan's appointment as Prime Minister in April after he had served 10 years as President, but the magnitude and intensity of the protests seem to have reflected long-standing grievances over issues such as corruption.
Economic disruption from the transition appears to have been minimal, the agency says.
"The financial sector did not see destabilising pressure on bank liquidity or deposits, while international reserves remain at prudent levels. A favourable external environment in terms of commodity prices, export demand and continued remittance growth reduces near-term risks for the economy," the credit rating agency says.
"Mr Pashinyan's cabinet, which includes experienced technocrats as well as private sector professionals, has until the second week of June to present a policy programme. We believe certain factors point to broad continuity in the commitment to preserve macroeconomic and financial stability as well as the sustainability of fiscal accounts."
Nevertheless, the agency says, domestic political uncertainty has not been fully dispelled, since the incoming administration faces significant challenges. Sargsyan's Republican Party of Armenia remains the largest party in parliament, and it is not clear that Pashinyan, a political outsider, can build and maintain a parliamentary majority and balance the need to work with entrenched economic interest groups while maintaining popular support by pursuing his broad aims of tackling corruption and a commitment to social justice.