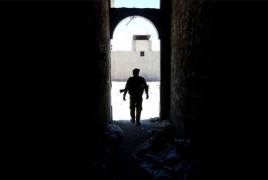 June 11, 2018 - 17:58 AMT
PanARMENIAN.Net - A woman working undercover for the Islamic State has reportedly seduced 6 Kurdish fighters into death trap in eastern Syria before escaping the area, Al-masdar news reports.
The woman lured the militants fighting under the umbrella of the US-backed Syrian Democratic Forces into her house in Suwydan Jazeera town (southeast Deir ez-Zor), where they all were brutally beheaded by IS militants who were hiding inside.
Following the inicdent, all of them left but were spotted by an SDF checkpoint at the entrance of the town. Clashes broke out where 2 SDF fighters were killed before the IS cell allegedly vanished.
Several similar incidents have been reported in the areas recently captured by the Kurdish militia after IS was ousted. After losing territories, IS sleeper cells resort to death traps in order to assassinate as many Kurdish fighters as possible.