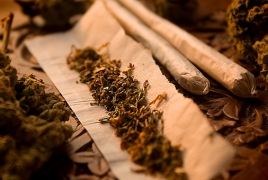 June 12, 2018 - 12:16 AMT
PanARMENIAN.Net - The Canadian military will not be in a position to impose an outright ban on the use of recreational marijuana, but its restrictions will be more wide-ranging than its policy governing alcohol, says a senior commander, according to CBC News.
A draft policy is waiting in the wings for the Liberal government to pass C-45, the cannabis legalization bill, which was sent back from the Senate to the House of Commons with a long list of amendments last week.
The new policy "allows us to respect the law," Lt.-Gen. Chuck Lamarre, chief of military personnel, said in a recent interview.
"But at the same time, I think Canadians are expecting our operational readiness and our ability to do our business must never be compromised."
The directive will cover everyone in uniform but also offer guidance for the 30,000 civilian employees of National Defence who support military operations, directly and indirectly.
The use of alcohol in the Canadian military has been subjected to various restrictions, and even outright bans, during some overseas operations.
What Lamarre and his team appear to be proposing, after months of legal and medical study, is essentially an expansion of that regime to reflect the unique nature of cannabis.
"There's no total ban at this point," he said. "We can't do that. If the law says it's no longer criminal to have it in your possession, it's not a criminal act. You just can't ban it outright."
There are some within the military who have been arguing for an outright ban for certain occupations, notably pilots.
Lamarre would not discuss the particulars, but acknowledged the air force has "specific concerns" and the new commander has been asked to identify where the new rules need to be tougher.
In addition, each of the branch commanders — for the army, navy, air force and special forces — has been asked to designate certain jobs which will be subject to restrictions.