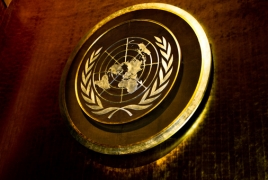 June 14, 2018 - 10:54 AMT
PanARMENIAN.Net - Armenia on Wednesday, June 13 became a member of the United Nations Economic and Social Council (ECOSOC) for a three-year term starting January 2019, the Foreign Ministry said in a statement.
Elections for the new members were held during a plenary meeting of the 72nd session of the United Nations General Assembly in New York.
One of the principal organs of the UN, the ECOSOC is responsible for coordinating the economic, social, environmental and related work of the specialized agencies, funds and programmes, the functional commissions and the regional commissions of the United Nations.
The ECOSOC with a membership of 54 countries serves as the central forum for discussing international economic and social issues, and for formulating policy recommendations addressed to Member States and to the United Nations.
By gaining the seat for the second time (previously served for the term 2004-2006), Armenia is renewing its commitment to support the global efforts towards sustainable development and to contribute on the national level to the works of the Council.