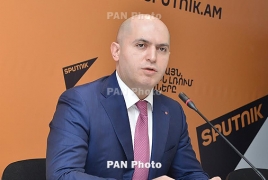 June 16, 2018 - 15:13 AMT
PanARMENIAN.Net - An urgent draft resolution encouraging the ratification by European Union member states of a new agreement signed between the bloc and Armenia will be introduced at a plenary session of Euronest Parliamentary Assembly on June 26, lawmaker Armen Ashotyan said in a Facebook post on Saturday, June 16.
The document, which makes a reference to the ratification by the Armenian National Assembly of the Comprehensive and Enhanced Partnership Agreement in 2018, is another confirmation of Armenia's commitment to build more strategic and ambitious relations with the EU, he said.
According to Ashotyan, the resolution urges the EU member countries to ratify the deal "without unnecessary delays."
The MP said the bill stresses the importance of the ratification of the EU-Armenia agreement by the European Parliament election in 2019.
"The parliamentary diplomacy and myself will spare no effort to have this project approved as one more important step on the way of promoting Armenia's national interest and the deepening of Armenia-EU ties," Ashotyan concluded his post.
The negotiations on the new EU-Armenia partnership agreement were launched in 2015 and concluded in 2017. It was then signed by both sides in November 2017. The final agreement marks a deeper EU-Armenia political dialogue, broadens the scope of economic cooperation and provides new opportunities for closer ties on energy, transport, infrastructure, environment, trade, education and other sectors.