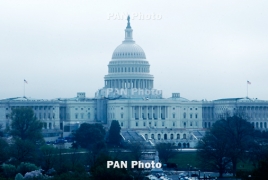 June 19, 2018 - 13:52 AMT
PanARMENIAN.Net - On Monday, June 18 U.S. lawmakers from both the Republican and Democratic Parties sent a letter to Secretary of State Mike Pompeo and USAID Administrator Mark Green calling for increased assistance to Armenia, Alex T. Johnson, the senior policy advisor for Europe and Eurasia at the Open Society Foundations, said in a fresh article, published by The Hill.
"This should be an easy thing to do because State and USAID only have to redirect resources—no new money is needed to support the new government's efforts to fight corruption, promote transparency, and improve transparency," Johnson says.
U.S. ambassador to Armenia Richard M. Mills revealed earlier that Washington D.C. is discussing with the new authorities in Yerevan the possibility of providing more economic assistance to Armenia under a special program designed to foster reforms in developing nations.
Immediately after Armenian Prime Minister Nikol Pashinyan took office on May 8, the Armenian National Committee of America (ANCA), an influential lobbying group, renewed its calls for $140 million in fresh MCA funding to Armenia. In a letter to U.S. Secretary of State Mike Pompeo, the ANCA chairman, Raffi Hamparian, said that would help to cement the country's "democratic development."