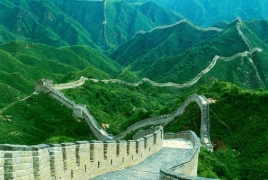 June 20, 2018 - 14:59 AMT
PanARMENIAN.Net - Archaeologists have discovered a city dating back to the Ming Dynasty (1384-1644) in China's Jiangxi province.
Covering an area of around 550,000 square metres, the city site in Tianbao village is shaped like a gourd, Xinhua news agency reported on Tuesday, June 19.
A 3,000 metre-long city wall was also discovered at the site.
Inscriptions on several bricks in the wall showed they were produced in 1524. Some other bricks had inscriptions that showed the wall had been maintained between 1736 and 1850, during the Qing Dynasty (1644-1911).
Eight gates were also unearthed.