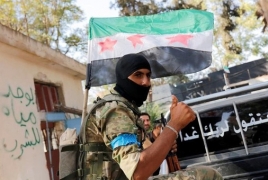 June 20, 2018 - 16:15 AMT
PanARMENIAN.Net - The rebel forces in northeast Dara'a have found themselves besieged by the Syrian Arab Army (SAA) after an intense battle on Wednesday, June 20, Al-Masdar News reports.
The Free Syrian Army's (FSA) Southern Front Brigades and their allies from Hay'at Tahrir Al-Sham were rudely awakened on Tuesday night, when a large number of Syrian Arab Army troops stormed their positions in the Al-Lajat region.
Led by the Taha Group of the Tiger Forces, the Syrian Arab Army started their operations in northeast Dara'a last night, when their troops attacked the Air Defense Base that was under jihadist control.
The Syrian Army would take control of the Air Defense Base during the twilight hours last night; this would pave the way for their advance this afternoon.
According to the National Defense Forces (NDF), the Syrian Army has since captured the towns of Al-Museikah and Al-Dallafa after a fierce battle with the jihadist rebels in the Al-Lajat region.
Following the capture of these two towns, the Syrian military worked their way around Busra Al-Harir, where they managed to seize several farms near the town.
With this advance, the Syrian Army was able to impose fire control over Busra Al-Harir, while also cutting the main supply to the rebel forces in the Al-Lajat region.
Busra Al-Harir is an imperative town in northeast Dara'a that is located directly east of the Syrian Army's stronghold, Izra'a.
The jihadist rebels have now issued distress calls to their allies around Dara'a in an effort to help alleviate the pressure on their forces.
Despite this latest attack, the Syrian Army has yet to launch their large-scale offensive in the southwestern part of the country.
The Syrian Army is expected to kickoff their southwestern Syria offensive in the coming days, as all of their forces are now present in the Al-Quneitra and Dara'a governorates.